2021 Porsche 911 Model Review with Prices, Photos, & Specs

2021 Porsche 911
Key Features
Starting at $99,200 MSRP*
3.0-liter twin-turbocharged flat-six (379 HP / 331 TQ, Carrera), 3.0-liter twin-turbocharged flat-six (443 HP / 390 TQ, Carrera S), 3.8-liter twin-turbocharged flat-six (572 HP / 553 TQ, Turbo), or 3.8-liter twin-turbocharged flat-six (640 HP / 590 TQ, Turbo S)
Evocative exterior design with increased body width, wider wheel housings, LED headlights, and variable-position rear spoiler
Top track speed of 191 MPH and 0-60 time of 3.5 seconds (911 Carrera S)
Ergonomic interior characterized by clear and straight lines of the dashboard with recessed instruments.
World-first Porsche Wet Mode which detects water on the road and preconditions the stability control and anti-lock brake systems accordingly
Optional Night Vision Assist with a thermal imaging camera
Porsche Communication Management (PCM) with a larger 10.9-inch touchscreen display (up from 7.0 inches in the previous car) and comprehensive connectivity
About the Porsche 911
Now in its eighth generation, the legendary Porsche 911 is quicker, more emotional, and more connected than ever before. Representing the iconic characteristics of Porsche design DNA, the 911 now features a more muscular exterior appearance in addition to a revised interior layout that's as equally modern as it is timeless. Every 911 comes equipped with the latest generation of Porsche flat-six turbocharged engines, offering a noticeable horsepower increase as compared to the prior model.
Included in an expanded suite of available active driver-assistance features, the 911 includes standard Porsche Wet Mode for improved driver awareness on wet roads and is available with Night Vision Assist featuring a thermal imaging camera. Taking inspiration from classic 1970s 911 models, ergonomics and driver engagement take center stage in the driver-oriented interior. Longer, wider, and more poised than ever before– the Porsche 911 challenges convention while staying true to its legendary sports car heritage.
"As the Carrera's twin-turbocharged flat-six spins to life, it's immediately apparent that all the action is going on behind you. There's some aural augmentation at work here, physically piping engine noise into the cabin, but it comes off as more organic than artificial, and it means you get to hear more of the one thing that makes the 911 different than any car on the market: it's engine." — MotorTrend
"Steering is still electrically assisted, but Porsche claims the responsiveness is now 11 percent quicker in the standard car. Feedback on the track is as good as its predecessor's, as is its faultless precision. The direct connection gels well with the newfound grip and sense of stability, reducing the apparent size of the wider and heavier 992." — Car and Driver
What's New for 2021
After the debut of the eighth generation 911 the prior year, the 2021 model returns with an assortment of enticing updates. Features previously restricted to 911 Turbo and Turbo S variants are now offered on lower trim levels. Examples include the impressive 930 Leather package, lightweight and noise-insulated acoustic glass, and the Python Green exterior color. Other key updates include the addition of GPS capability to the available front axle lift system and a new digital display within the gauge cluster for tire temperature when you opt for the Sport Chrono package.
Timeless Exterior
The next chapter in the storied history of the 911 begins with the eighth generation, which remains modern while paying homage to 911 models of the past. Significantly wider wheel housings accent large 20-inch front wheels and 21-inch rear wheels. At the front, body width has been expanded by 1.77 inches, making room for a wider front track. Rear body width on both the 911 Carrera S and 911 Carrera 4S has increased to 72.91 inches, exactly the width of the previous 911 Carrera 4 and 911 GTS models. The front luggage compartment lid with pronounced contours evokes the design of the first 911 generations, flanked by new LED headlights. In an effort to reduce weight, the entire outer skin is now comprised of aluminum with the exception of the front and rear fasciae.
Driver-Focused Interior
Drawing inspiration from 1970s 911 models, the driver-oriented cabin of the 911 starts with the clear and straight lines of the dashboard with recessed instruments. Two thin frameless, free-form displays give the driver information on both sides of the centrally positioned tachometer. Optional Adaptive 18-way Sport Seats Plus with improved lateral support hugs the driver firmly in place during high-speed maneuvers. The Porsche Communication Management (PCM) system with a larger 10.9-inch touchscreen display offers comprehensive connectivity to enhance your drive.
Potent Performance
Every 911 Carrera S and 911 Carrera 4S now produces 443 horsepower thanks to a reimagined turbocharged flat-six engine. The result is a 23-horsepower gain in comparison to the previous generation. The rear-wheel-drive 911 Carrera S Coupe takes just 3.5 seconds to reach 60 miles per hour from a dead stop, while the 911 Carrera 4S Coupe with all-wheel drive requires only 3.4 seconds. Step up to the 911 Turbo and Turbo S to feel the exhilaration of a track-proven twin-turbo flat-six. An available Sport Chrono Package lowers these times even further by 0.2 seconds. A 8-speed PDK dual clutch transmission is included as standard and a manual transmission is also available.
Driver-Assistance
Wet Mode, a worldwide first for Porsche, is a standard feature included on the Porsche 911. This innovative feature detects water on the road, preconditions the stability control and anti-lock brake systems accordingly, and can alert the driver of the road conditions. Also included as standard, a camera-based warning and brake assist system can pinpoint the risk of collision with other vehicles, pedestrians, and cyclists. Available Adaptive Cruise Control includes automatic distance control, stop-and-go functionality, and an innovative Emergency Assist function for even greater peace of mind behind the wheel.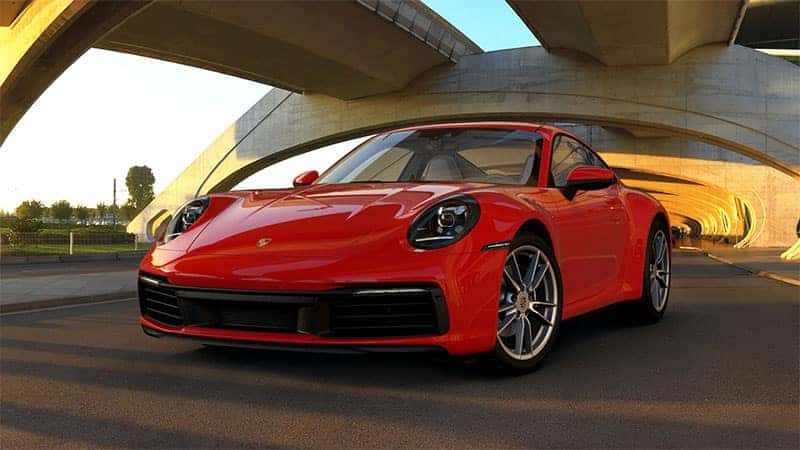 911 Carrera
Starting at $99,200 MSRP
Horsepower – 379
0-60 MPH – 4.0 seconds
Top Track Speed – 182 MPH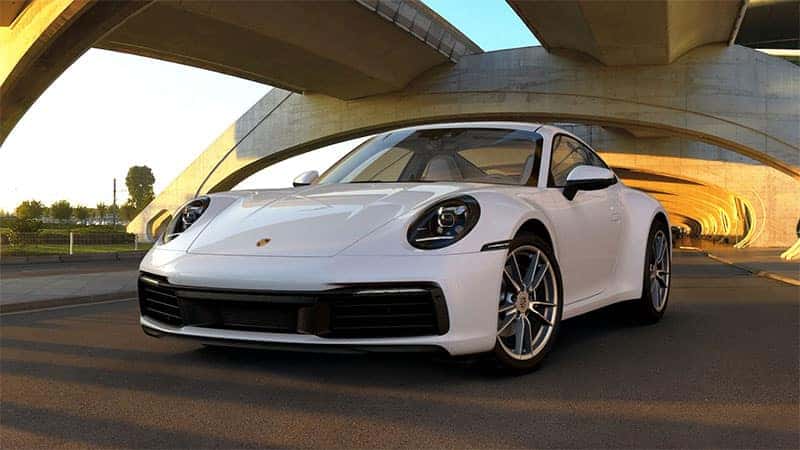 911 Carrera 4
Starting at $106,500 MSRP
Horsepower – 379
0-60 MPH – 4.0 seconds
Top Track Speed – 180 MPH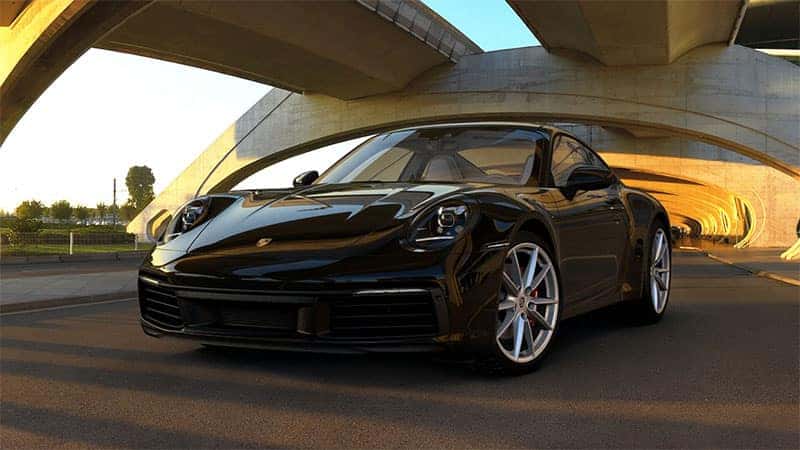 911 Carrera S
Starting at $115,100 MSRP
Horsepower – 443
0-60 MPH – 3.5 seconds
Top Track Speed – 191 MPH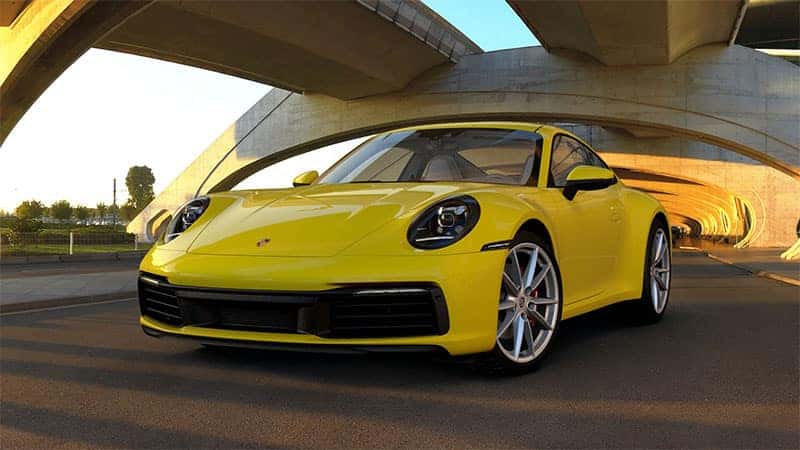 911 Carrera 4S
Starting at $122,400 MSRP
Horsepower – 443
0-60 MPH – 3.4 seconds
Top Track Speed – 190 MPH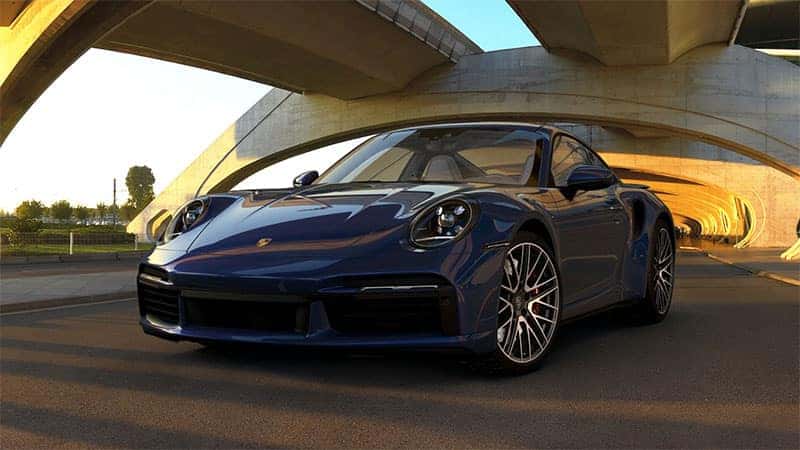 911 Turbo
Starting at $170,800 MSRP
Horsepower – 573
0-60 MPH – 2.7 seconds (with Sport Chrono package)
Top Track Speed – 199 MPH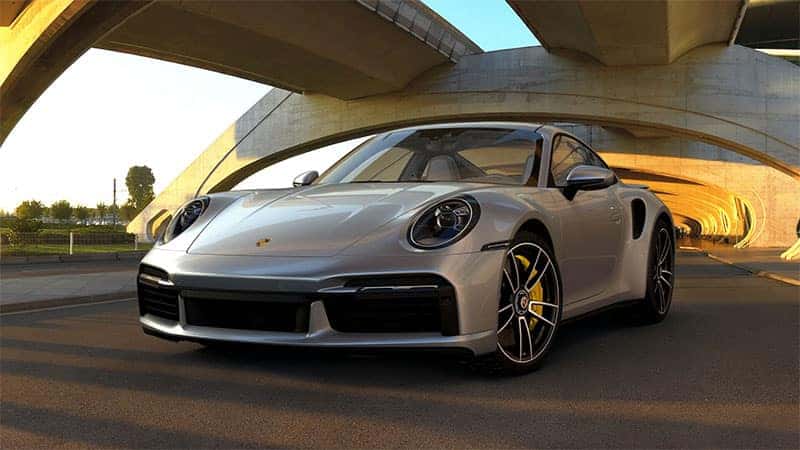 911 Turbo S
Starting at $203,500 MSRP
Horsepower – 640
0-60 MPH – 2.6 seconds (with Sport Chrono package)
Top Track Speed – 205 MPH
*Manufacturers' Suggested Retail Price. Excludes options, taxes, title, registration, delivery, processing and handling fee, and dealer charges. Dealer sets actual selling price.