Porsche eBikes for Sale in Louisville, KY

Ready to experience adrenaline-pumping excitement on two wheels? Similar to some of your favorite Porsche sports cars, the Porsche eBike lineup combines electrified performance with elegant design. Whether it's to escape the hustle and bustle of the city or adapt to the urban jungle on your daily commute, your Porsche eBike is engineered to deliver engaging rides on the tarmac and adventurous thrills on the trails. Blue Grass MOTORSPORT is your top destination for the latest Porsche eBike models including the eBike Cross and eBike Sport. Experience the pulse-pounding feeling of driving a Porsche on two wheels with a Porsche eBike.
---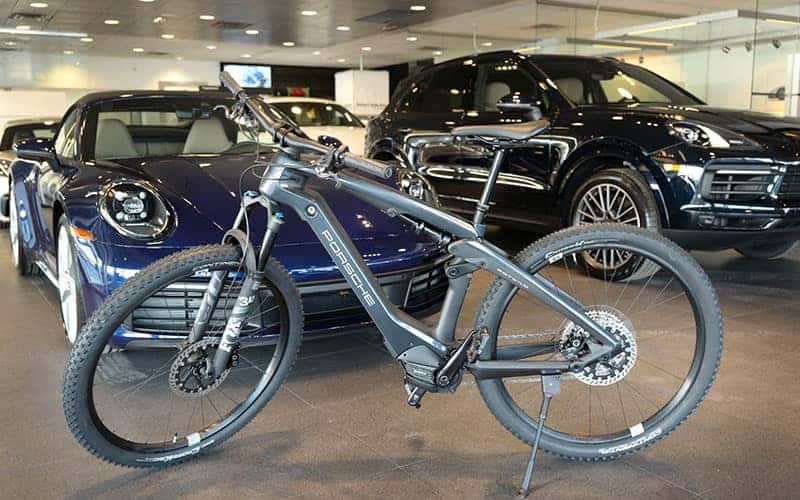 Porsche eBike Cross
In collaboration with Rotwild, the Porsche eBike Cross is expertly crafted with a full-suspension carbon frame. Keeping things smooth and composed are advanced chassis components from Fox. Its powerful Shimano drive unit featuring a battery, electric motor, and mechanical gears provides agile acceleration. Helping to slow this immense power are purpose-built Magura hydraulic disc brakes. Robust and athletic at the same time, the eBike Cross mirrors the capable performance and trail-conquering abilities of the Porsche SUV family. Built for those who never fear taking the path less traveled, the eBike Cross is a true technological marvel.
Specifications
MSRP – $9,500
Full-suspension carbon frame with 100 mm spring deflection designed by Studio F. A. Porsche
Shimano EP8 motor with max. 85 Nm torque
Mechanical Shimano XT 12-speed rear derailleur
Magura MT Trail disc brakes
Fox Float DPS rear shock
Fox 34 Float Performance suspension fork with 120 mm spring deflection
Crankbrothers Highline 3 height-adjustable seat post with handlebar remote control
---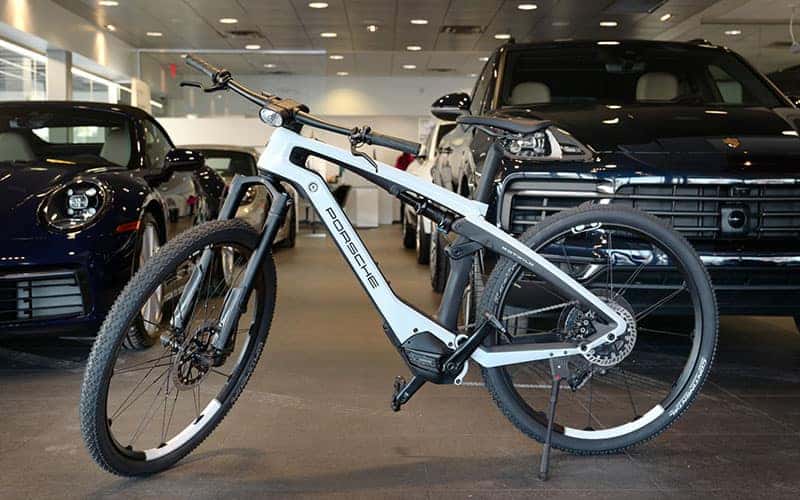 Porsche eBike Sport
Inspired by the swept-back profile of the timeless 911, the Porsche eBike Sport is engineered with the same attention to detail. Working in tandem with Rotfild, this cycle boasts a full-suspension carbon frame for lightweight agility. Riders will have access to the most current generation of the impressive Shimano drive unit consisting of a motor, battery, and electronic gears. Tuned for speed and responsive handling, the eBike Sport is also equipped with Crankbrothers alloy wheels, a Fox rear shock absorber, and Magura disc brakes for maximum stopping power. Both on and off the road, the Porsche eBike Sport is a force to be reckoned with.
Specifications
MSRP – $11,750
Full-suspension carbon frame with 100 mm spring deflection designed by Studio F. A. Porsche
Shimano EP8 motor with max. 85 Nm torque
Electronic Shimano XT DI2 11-speed rear derailleur
Magura MCi disc brakes with 4-piston front and rear brake calipers
Fox Float DPS rear shock
Light integration in stem and seat post from Supernova
Aero seat post with integrated rear light and deceleration signal
---
---
Reserve Your Porsche eBike