Porsche 911 Wet Mode Overview

Driving in the rain can be stressful – and dangerous. That's especially true for a powerful, rear-wheel drive sports car like the Porsche 911. Hydroplaning can happen in an instant, causing a critical loss of control that could result in a deadly crash. Thankfully, the engineers at Porsche have developed a high-tech system to keep you safe when the road gets slippery and wet. Best of all, this new feature is standard equipment on all new Porsche 911 models.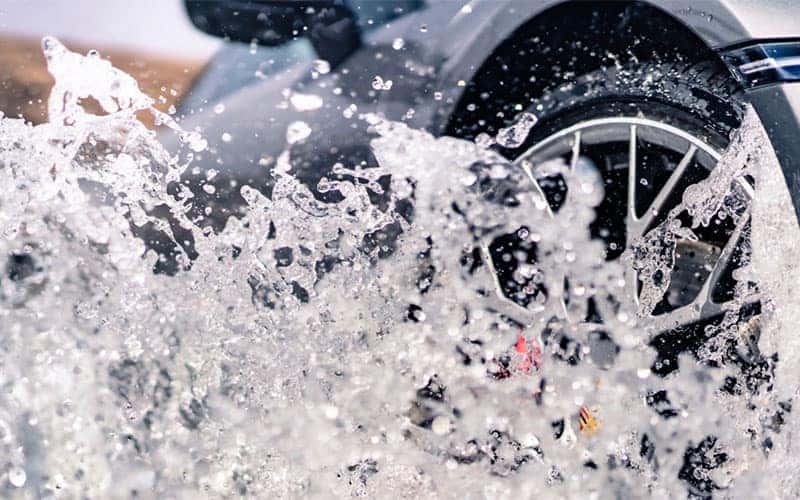 How it Works
Sensors inside the fenders will detect the sound of rain water splashing inside of your wheel wells. When they do, your Porsche 911 will alert you that it's time to put the car in Wet Mode, if you so choose. This setting, triggered by a control on the steering wheel, will alter several performance parameters to make your car safer to drive in the rain.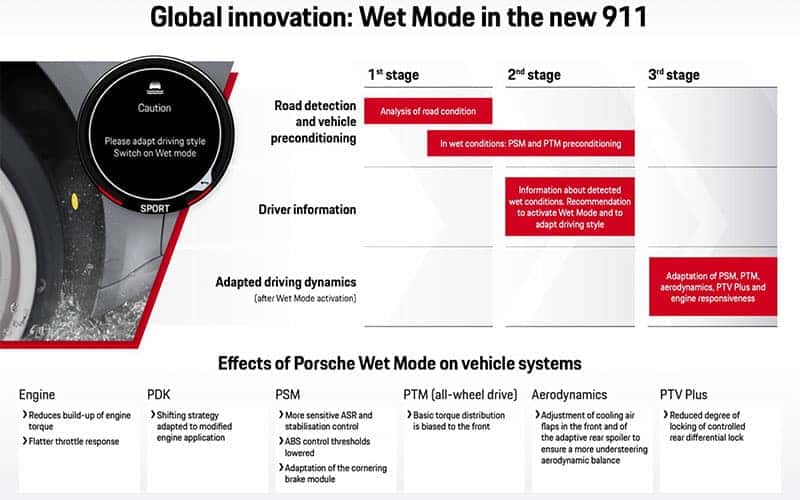 When activated by you, the driver, Wet Mode will turn on the following systems, which work in concert to keep you in control.
Porsche Stability Management (PSM)
Porsche Traction Management (PTM)
Adaptive Aerodynamics
Porsche Torque Vectoring (PTV) Plus (if so equipped)
Above a speed of 55 MPH, Wet Mode also affects the operation of the following systems:
PSM Off function and Sport Mode is disabled
Variable rear spoiler is moved to the performance position
Reduced throttle response
Cooling air flaps open
Reduced locking ratios of the electronically-controlled rear differential lock
Extra drive power diverted to the front wheels (on AWD models)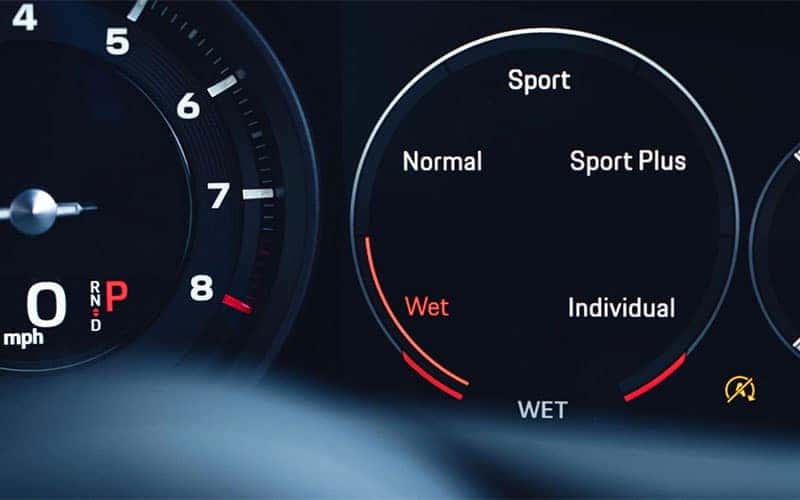 The combination of all of these systems working together will help you to maintain more control while driving in wet conditions. However, it's important to note that Wet Mode does not electronically reduce engine power or top speed. While this system will assist you and provide peace of mind, it's ultimately up to you to drive safely.

Driving is Believing
Do you still have questions about Wet Mode? That's what we're here for. Reach out to us at Blue Grass Porsche Louisville so that we can answer your questions. We're also happy to help you set up a test drive, so that you can experience Wet Mode in the new Porsche 911 for yourself.